Welcome to the Aboite Christian School. We are a Seventh-day Adventist school located in Roanoke, IN near Fort Wayne, IN.

Our Principal and Grades 7-8 Teacher.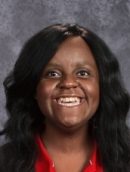 Miss Vimbo Zvandasara Zhou.  
She comes to us from Florida and is native to Berrien Springs, MI where she grew up. 
She loves interacting with adults and children.  She has a passion for Adventist education.  She is excited to share with the students about her trip to Zimbabwe she had this summer. 
She is so looking forward to meeting all the ACS families!

Our staff is committed to providing quality Christ-Centered education in a Christ-filled environment.

We invite you to find out more about our school. Call us to schedule a visit, or explore online. To see what is happening at our school you can check our calendar, news, visit our classrooms or see what our alumni are doing.
Our school is part of the world-wide Seventh-day Adventist school network.  The Seventh-day Adventist educational system includes elementary and high schools, colleges and universities in countries around the globe.

If you are interested in receiving more information about our school click on
Contact Us.