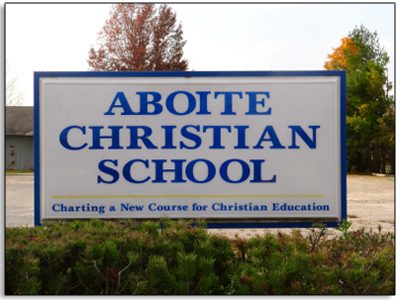 Mission Statement
Aboite Christian School exists to provide a quality education for our students, where they can develop a passion for learning in the context of an Adventist-Christian setting. At the core of our mission is a desire for each student to develop a life-long, personal relationship with Christ, and to achieve success in this world, and in the world to come.
Our Philosophy
Aboite Christian School is operated in harmony with the principals of the Seventh-Day Adventist Church. We seek to educate students within a Biblical worldview, and we believe that true education develops the spiritual, mental, and physical powers of each student; preparing them for the joy of service in this life and for the higher joy of service in the life to come.  

Vision
Aboite Christian School recognizes that, "True education means more than the perusal of a certain course of study. It means more than a preparation for the life that now is...It prepares the student for the joy of service in this world and for the higher joy of wider service in the world to come." (Education by Ellen White pg. 13). Thus, we seek to: 
· Support students to achieve their highest potential by employing Christ-centered educators who will encourage academic excellence and genuine Christianity through authentic relationships 
· Encourage each student to love and serve God through community service learning opportunities, all while partnering with churches and community organizations locally and abroad 
· Offer a strong curriculum, resources, and experiences that will foster opportunities for leadership and authentic learning 
· Create a positive, uplifting, and safe environment where everyone is a teacher and everyone is a learner 
· Partner with parents to promote academic, spiritual, and social growth within each student 

Motto
Aboite Christian School
Developing leaders for Christ!